Dream catcher
DIY dream catcher
This past week we have been doing some crafts again. Little man had already found a pile of pine cones with grandma so it was time to get to work on those. First I told the toddler an exciting story about Indians and then we got to work.
dream catcher
The story goes that an ancient Indian tribe used to make dream catchers to protect them from bad dreams. With some tough primal cries I told this to the little man. After a spectacular story, which I sucked out of my thumb, he also wanted to make a dream catcher.
Let's gather all our stuff and get to work.
What you need?
– A fresh willow branch
–Iron wire (or strong rope)
– Pliers
– Scissors-Wool
– Feathers
– beads
– Possibly pine cones or other materials to decorate the dreamcatcher.
Making a dream catcher
First you make a circle of the willow branch. Really use a fresh branch for this that is still nice and pliable. We have a big weeping willow in the garden and I cut a branch from it. Secure the ends with iron wire.
Then wrap the wool around it.
You can choose to make a pattern but we tied it nice and randomly around the circle. Add a bead here and there and then tie it all up tightly. To finish the dream catcher we hung three pine cones with a feather at the bottom.
Just add a piece of wool with a loop at the top and your dreamcatcher is ready.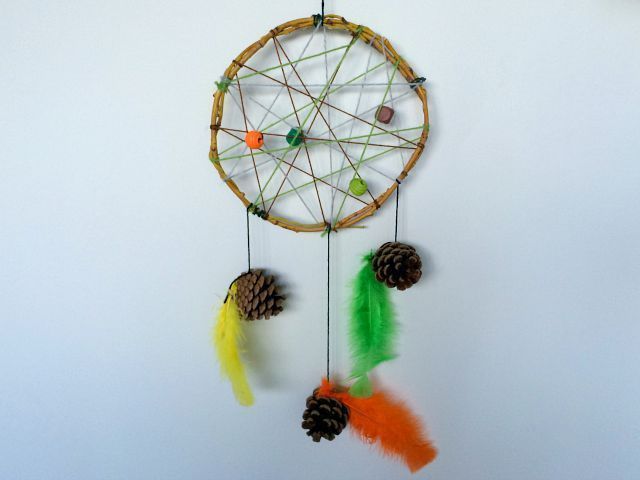 The little man enjoyed making a dream catcher. We have it hanging in the living room for now but of course it belongs above your bed. I am curious to see if he will keep his promise and catch all the bad dreams.
Will you also're making a nice dreamcatcher? I am curious to see the pictures!
♥ ♥ ♥ Fulltime Mama uses affiliate links. This Means That If You Click On One Of The Left, We May Get A Small Commission On It. It Doesn't Cost You Anything Extra, But It Does Get Us Something.
With thesis Processed We Can Maintain This Website. Also sometimes we get paid for an article or we get a product in exchange for a blog post. This Still Leaves Our Opinion Unchanged and Honest. For more information you can read the disclaimer. ♥ ♥ ♥