A day in Amersfoort
A day in Amersfoort
A day in Amersfoort, shopping, going to Escapetown and dining at 22HIGH and although I never post a shoplog, I do want to show off my new acquisition now. We had a great time in this beautiful city.
It had been a while since I visited Amersfoort
More than twenty-five years ago I came to Amersfoort for the first time. Together with a friend we made good use of our OV year card, which allowed us to travel throughout the Netherlands. Funny, because it was so long ago, but I still remember it very well.
I didn't remember much of this city. So I actually thought it would be nice to go here again and I was actually surprised about this beautiful city and would actually like to go back for a city walk sometime.
Shopping in Amersfoort
There were several reasons why we went to Amersfoort and one of them was shopping. In a few weeks the youngest will be nine and so we were looking for gifts for him and I was looking for new boots. I actually prefer to wear boots all winter, but I didn't have any more. So this day I went in and out of every shoe store I saw. I don't have such thick calves and most boots don't look good because of this.
There is such a big gap between the boot and my leg, it's really not possible.
Finally found some boots
Years ago I bought boots in size S and this is what I was looking for again. No store had them yet, until I decided to go into another store. At Manfield I saw a pair of narrow boots behind the checkout counter and when I asked about them it turned out they had just come in.
I tried on a pair and they were fine! How happy and relieved I was. So I'm looking nice and warm again this winter.
Where to have a good lunch?
Succeeded well for my boots, so time for lunch and that is at Bagels and Beans in Amersfoort. I love coming here, but had never been there with the husband. So treated him to a Cappuccino for him and Chai latte for me.
With a delicious bagel.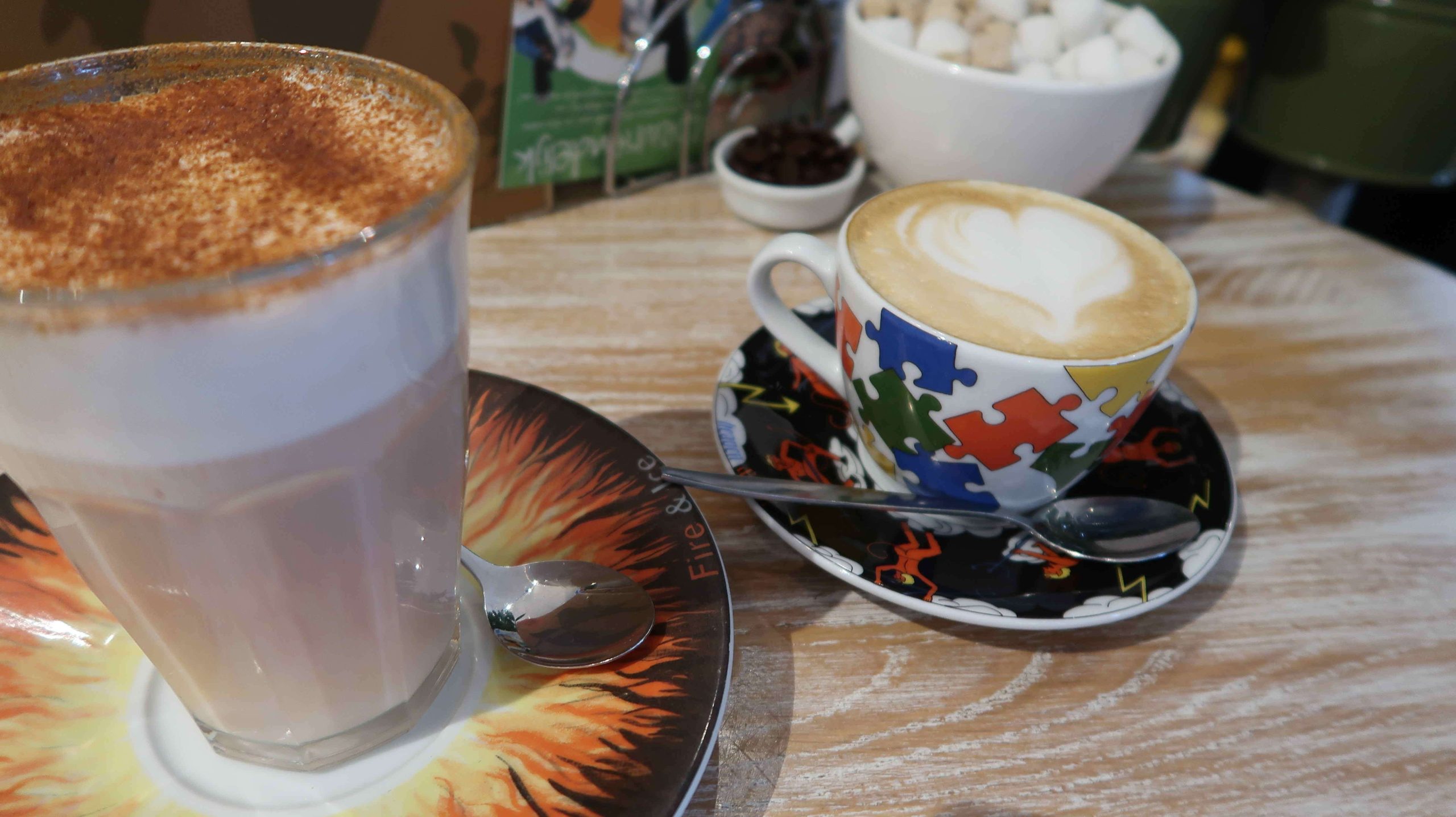 Escapetown
And then we went to the Oppidium, where you can also find Escapetown. For me it was the first time I was in an Escapetown and I was really super curious. I've obviously read and heard a lot about it, but what an experience it was to experience it myself. At Escapetown in Amersfoort, there are three options: The cabin in too wood, Theft at the morgue and The wizard school (also for children). With four others of the group I went into the Morque room.
This was the most difficult room and it showed because we were the only group that did not get out of the room by ourselves. Although we were almost there, it still made a difference. Of course I will not give anything away, but a tip: Really do it!
Dinner at 22HIGH
After we'd been freed' from the escape room we went to eat at 22HIGH. A restaurant at high altitude, with stunning views over Amersfoort. 22HIGH has an all you can eat buffet with world map.
And what a good deal they were. Mainly you can choose from 2 hours, 2.5 hours or 3 hours. The food was good, with plenty of choice, including sushi, meat, fish, Chinese, salads and of course desserts!