Pumpkin gnocchi with broccoli
Pumpkin gnocchi with broccoli
By Debbie; I love cooking and baking and prefer to spend as much time as possible in the kitchen. Of course I also hope that my children will one day develop that love for good food. In terms of sweets, it's fine, but those vegetables ….
It's all rather limited. Well, don't worry too much, they both look good
Cooking together with the children
The youngest (3) really enjoys helping me these days. I finally bought a higher stool and now he can see everything and he is there like the chickens to do something in the kitchen. That also makes this such a fun dish to make. You can involve your children in making the gnocchi, it's a fun job to do together. Ok, it's a bit of work but you can just make it ' in the afternoon and so you have good quality time with your children.
The advantage is that it doesn't have to be neat, so no frustrations because it doesn't work out because they are always good, in whatever form!
Pumpkin gnocchi
What do you need for 4 people:
500 grams floury potatoes
a pumpkin, peeled and thickly sliced (about 650 grams of flesh)
1 tablespoon of olive oil
nutmeg
2 egg yolks
250 grams flour + extra to roll out
extra: Parmesan cheese to serve.
How do you proceed?
Preheat the oven to 220 degrees Celsius.
Peel the potatoes and cut them into pieces. Boil them in plenty of water for about 20-30 minutes. Drain and drain well.
Place the pumpkin on a baking tray lined with parchment paper and brush with the olive oil with a brush. Sprinkle with salt and roast in the oven for 20 minutes. Let cool.
Mash the potatoes and pumpkin with a potato masher.
Season everything with a good pinch of salt, pepper and nutmeg.
Add the egg yolks and flour and mix to a soft dough. Don't mix it too long.
Shape the dough into a ball and cut into thick slices.
Flour your counter well enough so that the dough does not stick.
Roll each slice into a ribbon about 1.5 cm thick. Cut the ribbon into 1 cm pieces.
Press each piece with the top of a fork to make lines.
Bring a large pan of salted water to the boil and cook the gnocchi until they float to the top. This only takes a short time, 1 to 2 minutes.
Broccoli sauce and grilled broccoli
With the gnocchi I made a sauce of braised broccoli and for some crunchiness I also grilled broccoli in the oven. This way you have a lot of vegetables in a dish!
2 broccoli heads
1 garlic clove
olive oil
2 tablespoons of sun-dried tomato strips
pepper and salt
How do you proceed?
Preheat the oven to 210 degrees Celsius.
Cut 1 broccoli head into florets (not too small) and toss with 1 tablespoon of olive oil.
Place the broccoli on a baking sheet covered with baking paper and sprinkle with pepper and coarse sea salt. Roast for 20 to 30 minutes until golden brown.
Cut 1 head of broccoli into small florets.
Heat a large frying pan and pour in 2 tablespoons of olive oil.
Press the garlic over the pan and let it fry for half a minute on a low heat.
Add the small broccoli florets and fry them briefly.
After 5 minutes, add 50 ml of water, reduce the heat and let everything simmer gently with a lid on the pan.
After 20 minutes add the sun-dried tomato and mash the broccoli slightly with a fork or potato masher. Add more water if necessary.
Season with salt and pepper.
Continue to simmer until the broccoli is really soft.
Spoon the cooked gnocchi through the broccoli sauce and finish with the crispy roasted broccoli. Serve with Parmesan cheese.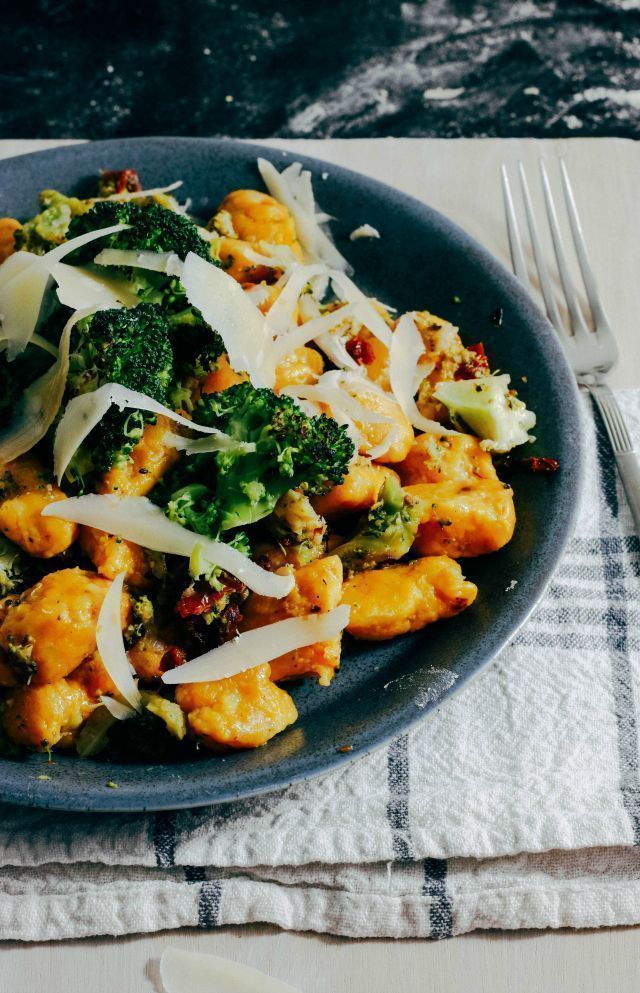 This article was written by Debbie Bodewes. You can find more from Debbie on her blog Deb's Bakery & Kitchen.
♥ ♥ ♥ Affiliate links are used on Fulltime Mama. This means that if you click on one of the links, we may receive a small commission. It costs you nothing extra, but it does give us something. With these proceeds we can maintain this website.
We also sometimes get paid for an article or we get a product in exchange for a blog post. Our opinion therefore remains unchanged and honest. For more information you can read the disclaimer. ♥ ♥ ♥