Birthday Gifts For Teens Tips
Birthday Gifts For Teens Tips
Our son was ten years old of the week. Before we could celebrate this, there was of course the question; ' What will we give it this year?' Ten years is a special birthday again. And that requires special Birthday Gifts.
Special birthday gifts
What's going fast.In the meantime we have two teenagers here. Two years ago, the oldest, when he became ten, received birthday gifts that we found to fit this age. A SIM card for his phone and a watch.
So the youngest knew that he would also get these gifts this year, but a very special birthday was allowed to do with that.
Search for a watch
Special gifts for teenagers, just come on. We thought a watch really matches this age. Two years ago we really had to search for a watch for the oldest. We wanted a watch that would be both digital and analogue.
We found nothing in the stores and the choice was also limited online. In the end we found a watch to our taste and it also fell very well with the youngest son. He thought the watch was very cool and the color so beautiful that we bought the same watch for him.
If you are also looking for a watch for your son or daughter, take a look here
A SIM card
One of the other birthday gifts that we found to suit this age is a SIM card. We no longer have a fixed phone and now that the boys are at home more often, we also thought that the youngest could now get a SIM card as a birthday gift. He already had a phone, but still without a SIM card.
He doesn't need much in calling credit yet, but can now at least call if there is anything.
The most beautiful photo ' s in a collection
And when I am talking about special birthday gifts, then a real surprise is of course also very nice. My son loves Dino ' s and during our summer holidays in Austria stood everywhere in the town of Ramsau everywhere the ' Ramsaurier '. We found five and the son took a picture with every ramsaurier. I already told him that I wanted to take a collage of this photo at home ' s, but I didn't know how and what.
Until I ended up on the Smartphoto site. Here I saw the possibility to make a collage on canvas. This was that special birthday gift which would be a real surprise and what he would certainly not expect. Making this canvas was very easy. I made sure that the photo ' s were uploaded on the site and could place it in the collage as I wanted.
I made sure there was a white edge in between, but I could have left this away. The collage was delivered quickly and the result is completely what I had hoped. The colors are beautifully clear and the son was so surprised and is very happy with the result.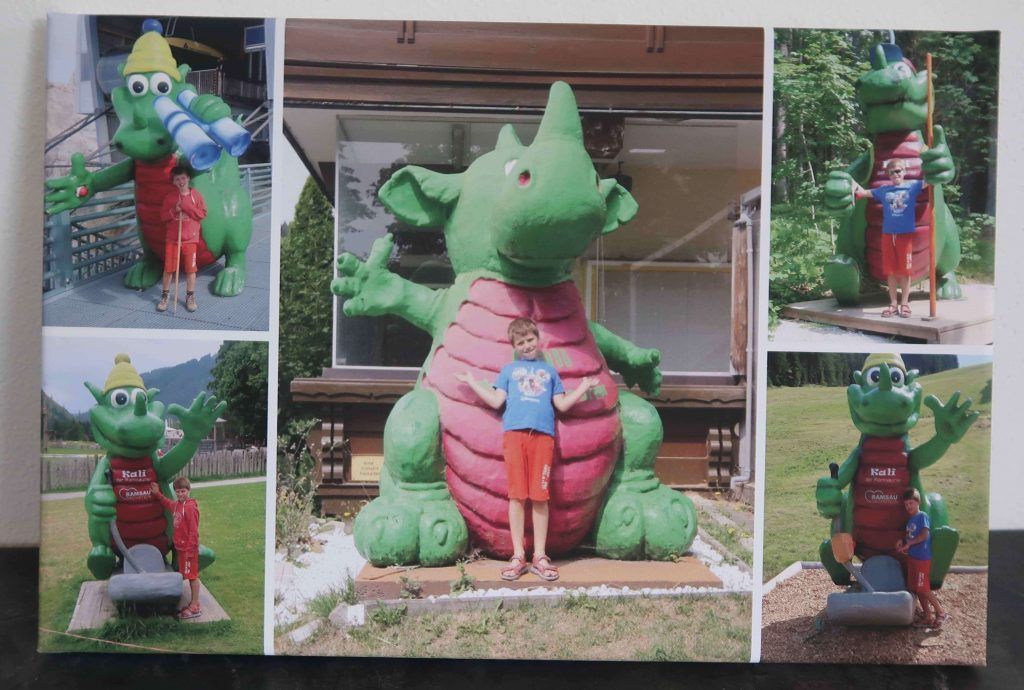 The gifts were a success
Sunday morning it was time. The house was decorated and the cupcake was already ready. He was very surprised about the collage and it got a nice place in his bedroom.